Beech boules & sawn timber :
Our beech comes from own exploitations : direct from the forest to you as a customer.
We buy logs from state forests and from private owners. After many years of experience we know the good regions.
We have permanent teams of harvesters, loggers and transporters.
All logs are debarked (to avoid the risk on worm), after sawing we condition and dry in our own company in Maasmechelen (Hout Service NV).
Having the entire process in-house we are sure about the quality and we can offer competitive prices. We offer fresh, air dried or kiln dried.
Optimal storage, conditioning and drying garantees quality :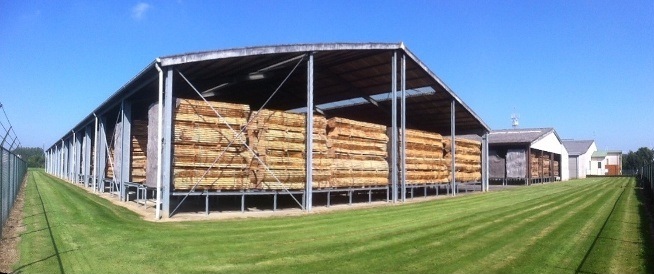 Wood deserves the best care you can give it.
That's the reason we built a unique space-saving & efficient storage and drying system.
All wood is properly stacked 80 cm above the ground on big pallets (50 tons) to air dry in the wind and then kiln dry in our kilns. A unique internal transport system moves these pallets quickly to the desired zone: fast drying zone / slow drying zone / protected zone / kilns ...
We determine the right place in function of the weather conditions, the type of wood, the thickness and the moisture content. We dry maximally in the wind, but can control by moving the pallets, to avoid cracks in dry periods and discolorations in humid periods. We strive to put the wood only in the drying kiln, when the fiber saturation point is reached. This gives optimal results both for the physical properties of the dried wood and in terms of cost. All wood is stacked under roof, protected from wind, sun and rain.
This way of working is very ECO-friendly and delivers the best conditions to dry your wood.
The system is developed in-house and is based on years of experience.
We take care of our own wood and also condition and dry wood for third parties.
Cut to your specifications :
For optimization of your specific needs, good planning is strongly preferred, so that we can deliver exactly according to your wishes. Selection is then already made in the forest and the logs are sawn on your preferred thicknesses, lengths, widths and quality. The boules can be delivered fresh sawn or further conditioned, dried and stored in the most ideal conditions, for delivery on demand.
Range:
Beech boules :
All boules have an internal number. So we get a perfect traceability for us as well as for the end customer. At DB Hardwoods, we work with a transparent and objective price system: every boule is different. Therefore, each boule gets a price in function of its quality and its diameter. This makes it possible to make clear agreements with you as a customer, it allows a simple and correct valuation of the stock.
If the customer passes us exactly what he wants to get delivered, we deliver an overview of the available inventory from which he can choose.
Beech boules :
Staircase quality :

Thickness : 40 / 41 mm (6/4)

52 mm (8/4)

27 mm (coverings)

70 mm (banisters)

80 mm (banisters)

Diameter : 55 cm and wider

Length : 3m50 /+, mostly 4m00/+

Top treatment : debarked, dried vertically, profiled dried laths,

replaced to avoid sticker marks, air drying under roof with

maximal ventilation…

approx 1000 m3 stock

Also available at interesting prices:

Staircase quality for painting : in 40 and 50 mm

First quality but colour is not important
Furniture quality WHITE :

- Thickness : 27 - 32 - 40 - 50 - 60 - 70 - 80 mm

- Quality A/B first log and good 2nd log

Quality good B = good 2nd log
Furniture grade RED heart allowed :

- Thickness : 27 - 32 - 40 - 50 - 60 - 70 - 80 mm

- Quality A/B first log and good 2° log

Available : good quality in dried wide planks in 60, 70, 80 mm
Beech SQUARE EDGED white:
for steps :

Thickness : 41 en 52 mm

Width : 120 mm en wider

Length : 800 / 850 / 900 / 950 / 1000

1100 / 1200 / 1300 /1400 mm

for strings :

Thickness : 41 en 52 mm

Width : 120 - 220 mm

230 mm and wider

Lengths : 3m50 - 3m90 and 4m00 /+

Production : approx 800 m3 per year

Fresh cut or kiln dried

other specifications :

for ex. strips for parquet or production of

furniture: sawing on demand.
Beech squares WHITE
Squares for turnings, table legs, furniture parts :

All lengths possible after ordering :

41x41 54x54 60x60

70x70 80x80 105x105

Lengths : - assorted

- table legs

- newel posts

Available in inventory:

105 x 105 x 1300/1400/1500

105 x 105 x 2000/2100/2200/2300/2400/2500
Beech square edged LIGHTLY STEAMED
Beech square edged

Lightly steamed

Kiln dried

A-quality

Thickness : 27, 32, 40, 52, 65 mm

Width: 10 cm and wider

Lengths : 0m80 – 1m90

2m00 – 2m90

3m00 – 3m90

4m00 – 5m00

Also : cut to size, sawn from dried lumber

e.g. : baluster 34 x 52 x 900 mm
Discover also a worthy alternative : Beech panels without fingerjoint.
Reasons to work with DB Hardwoods :
- we can deliver boules and sawn timber with the best physical characteristics because we dry in a optimized
way (maximum controlled air drying + kiln drying).
- you choose from our inventory the boules which meet your requirements.
- the price is in function of the quality.
- correct measurement.
- large inventory of 4,000 m3, stored in the most optimal conditions, always under roof.
- you are buying from us security, with peace of mind, we promise what we can do.